Kanye West: The Genius of Stage Dressing
Kanye West, is in my opinion, the most influential artist of his generation. The man responsible for pioneering new sounds, the man responsible for Yeezy, he is a modern icon that unfortunately some love to hate. Whatever you think of him, I want to go back to the music, and more specifically to the performance clothes his albums have dictated, from The College Dropout to The Life of Pablo. With a desire for innovation, forward thinking and perfection, here is why Kanye is an undeniable genius.
Kanye's movements into the fashion arena weren't a surprise to anybody. They are an extension of Kanye's world, which has evolved into the outfits and themes explored by his eight studio albums, which have taken listeners on a musical and visual odyssey, breaking 21st century boundaries. The sound of the records inspired his clothes, the album's visuals, and reflected the ideology of West. The School Trilogy (The College Dropout, Late Registration, Graduation ) is particularly memorable as a satirical representation of America's education system, and a proclamation of West's own early successes.
Clothes were meticulously fit to the music of The College Dropout (2004.) Warm, positive sounding beats and lyrics bridged the gap between underground and mainstream rap, whilst West wore 'prep hop' clothing in the form of Louis Vuitton backpacks, Ralph Lauren Oxford polo shirts, striped cable knit jumpers, mid-wash baggy jeans and white A Bathing Ape sneakers. His outfit functioned as a visual illustration of his music as he wore the two themes that made up the essence of The College Dropout: a sarcastic portrayal of a classically dressed college student, and a confident Kanye who could do and wear whatever he wants (and still does.)
Breathe in Breathe Out: Track 13
'First ***** with a Benz and a backpack
Ice chain, Carti lens, and a knapsack
Always said if I rapped I'd say somethin' significant
But now I'm rappin' 'bout money, hoes, and rims again'
'Man, I promise, she's so self-conscious
She has no idea what she doin' in college
That major that she majored in don't make no money
But she won't drop out, her parents'll look at her funny'
Kanye moved into sophomore year with Late Registration (2005) and developed these social themes, through experimental beats and subject matter to reflect a matured 'student.' West mixes background sounds of string orchestra to Ray Charles samples, and the lyrics focus on race and politics. The self-obsessed Kanye was of course also their, boasting about his success in 'Touch the Sky' and 'We Major', coming into contrast with the emotive lyrics of Roses, opening up about the illness of his grandmother. He also confesses the consequences that come with new found fame in Addiction.
Addiction: Track 11
'What's your addiction? Is it money? Is it girls? Is it weed?
I've been afflicted by not one, not two, but all three'
This Late Registration West dons more sophisticated school wear, losing the backpack for flat top silhouetted sunglasses. The striped jumpers were swapped for varsity Gucci cardigans, and experiments with suit jackets were made, as if he was the most popular guy in school going to prom. His clothing developed in tandem with his personality on the album, no longer a scruffy youth but a cultured teen. His willingness to experiment with beats and subjects paralleled his experimentation within fashion.
The college years finished in 2007 with Graduation, the final piece of the education themed trilogy. It was his most groundbreaking experimentation in music as he mixed hip-hop with electronic drumming, a new sound mirroring the confidence of a student graduating. 'Can't Tell Me Nothing' and 'The Glory' show Kanye at his arrogant best, there's a feeling of other worldliness due to his self-proposed talent and fame which act as the theme for the album.
The electronic sounds rather than the lyrics influenced West's image in 2007. After winning best rap album of the year at the Grammys, Kanye went on his world tour 'Glow in the Dark', which had an intergalactic feel not seen in the rap genre before. Clothing, stage design and lighting effects all matched the album. His now infamous shutter shades were born and he wore all black outfits with luminous detailing and stitching, transforming him into an extraterrestrial figure as he performed in a dark setting. He became alien like, but he was an alien so influential and successful that he had '…graduated far past man-made rules and into a world of absolute freedom' (Noisey Images).
The Glory: Track 11
'But with my ego
I can stand there in a Speedo
And be looked at like a fucking hero'
Let me leave you with a quote confirming the confidence and dedication that Kanye puts in to his multiple crafts whether that be music, clothes, or stage design.
'I'm delivering product on a whole new level, I'm like a machine, I'm a robot, you can not offend a robot. Mentally I'm so focused there's nothing anyone can say or do to me that can stop the music or product that I'm gone put out, at the end of the day the talent will overcome anything.'
Part 2 coming soon.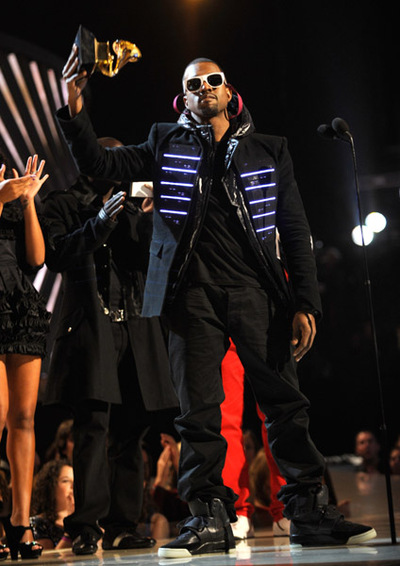 Part 2 here: http://intermissionbristol.co.uk/fashion/clothes-behind-the-genius
Images:
Billboard.com
Genius.com
Target.com
Time.com
Allthingsgomusic.com
Complex.com
Nme.com
Fashionbeans.com