The Female Condition Exhibition Review
It is the opening night of the exhibition and the Centrespace Gallery is filled the sound of chatter. Although resembling the stereotypical, intimidating white cube of a gallery, the space is welcoming. Organised by LIVE events, The Female Condition exhibition explores the ins and outs of womanhood and in a very diverse manner – from sculpture to self-portraiture, film to painting.
Meet the artists:
A satire on the selfie, showcasing self-portraiture photography, Roberts' pieces highlight the distortion, sometimes self-inflicted, of women's bodies in media, as well as hunger for representation of natural female bodies.
Visit Hannah's art Instagram here.
Not only did Fleur organise and curate this exhibition but also showcased her own work comprising of abstract paintings of female form.
Visit Fleur's art Instagram here.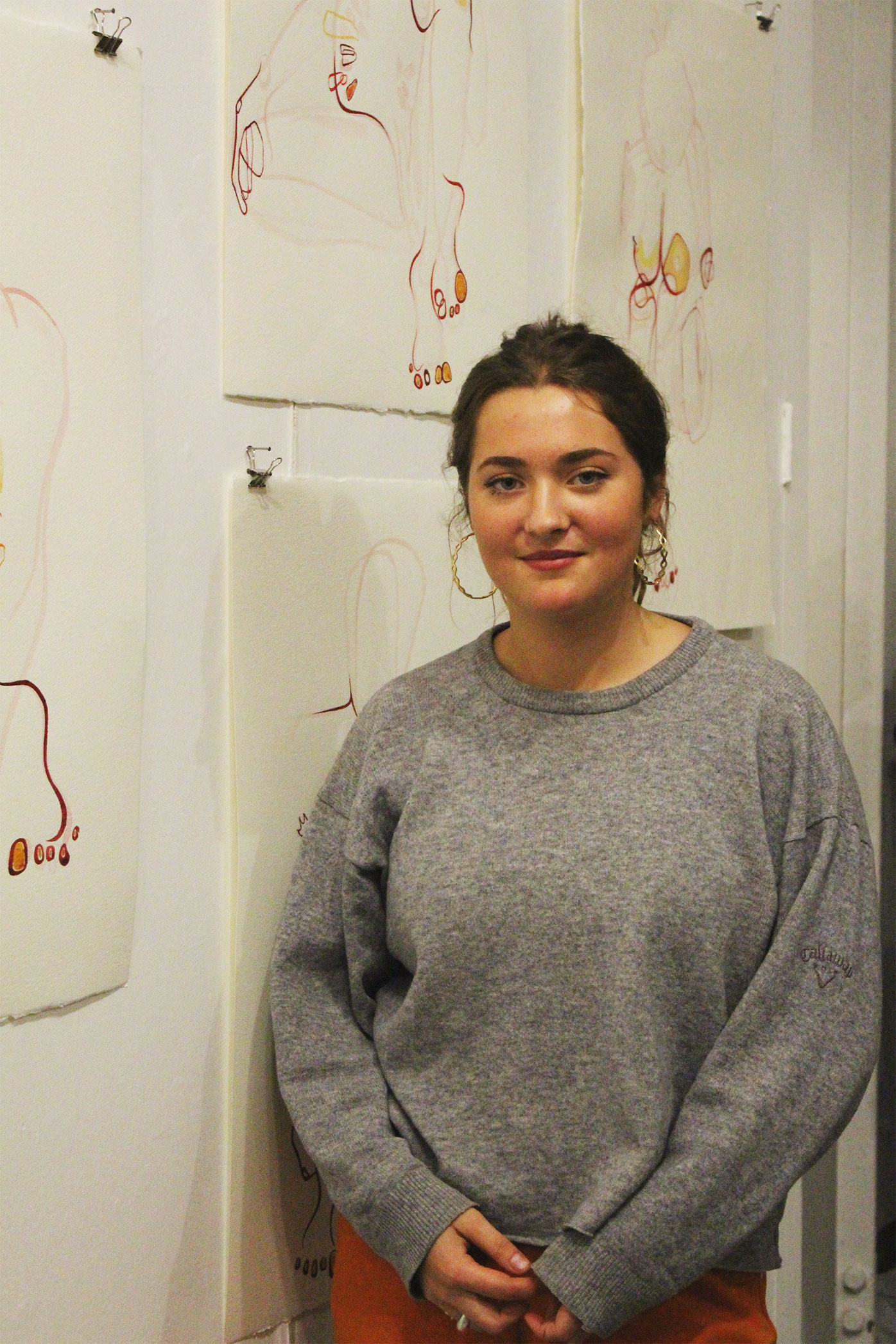 More illustrative than its counterparts, Esther's drwaings explored themes of fertility and vulnerability in feminine, muted tones using the symbolism of fruit.
Visit Esther's art Instagram here.
An archive of Whatsapp messages as thick as a book. Lockyear's shrine-like installation of objects collected from a past relationship is very striking. It feels as though you are snooping through her diary. Visitors are unsure how intensely to analyse the messages – "should we read them?". A simplistic piece, but thoroughly effective.
Jade is an art student in Bristol. Her work showcased comprises of self-portraiture photography and metal sculptures. Ayino's photography is very exploratory of her relationship with herself and her identity – she told me that until the age of 12 she didn't know she was a black girl, and is still figuring out what that really means in the world.
Visit Jade's website here.
Other artists exhibited included Lyu Rui (photography), Matilda Boyer and Sam Green (painting) and April Kirkwood (film).
In recent years the Tate have reported that 78% of the galleries in London showcase more works by men than women. Although this exhibition is not a large one, or even a prestigious one, it is the beginning of a bottom-up revolution; female artists showcased by female curators.
With the rightly so criticism of the imbalance of gender representation within the art world, The Female Condition is an example to lead by. Not loud, aggressive feminist propaganda but a genuine expression of femininity through creativity. I wholeheartedly look forward to the next LIVE events exhibition.
Check out the LIVE Events Facebook page here.